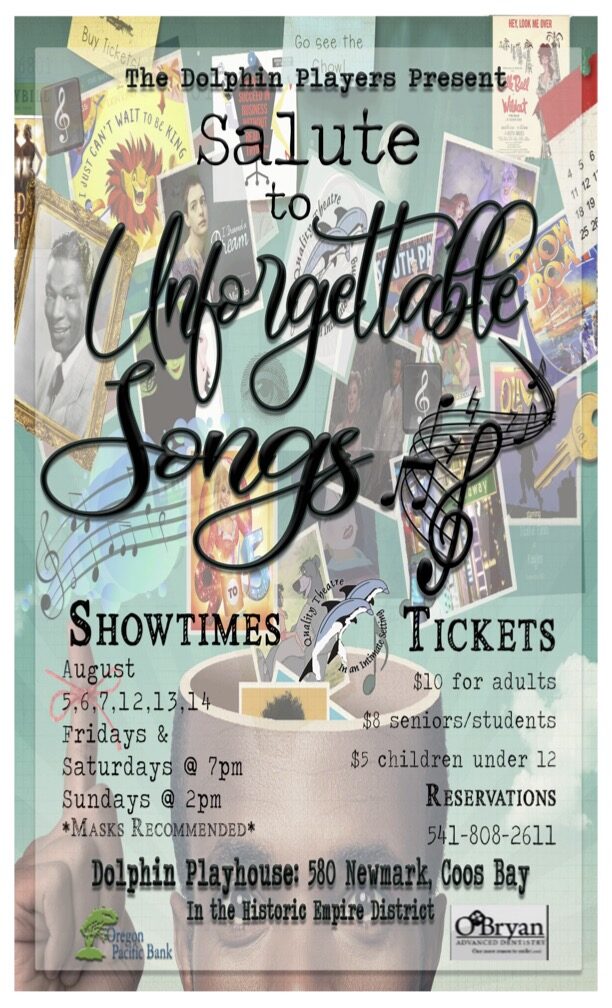 When directors Luanne May and Alice Carlson began discussing this year's Salute, the idea of "earworms" kept coming up. Earworms are those songs you can't get out of your head, no matter how much you want to stop listening to them. They didn't think that Salute to Earworms was a very good title, but Salute to Unforgettable Songs worked.
Selections chosen for this year's musical revue include a mixture of songs that are widely recognized, such as Nat King Cole's "Unforgettable", and may be new to the audience, such as "I will never leave you," from Side Show, but the directors know from experience that every song can be an earworm.
Salute to Unforgettable Songs, featuring songs from Broadway and film, returns to the Dolphin Playhouse on August 5, celebrating the Playhouse's tenth birthday. This year's Salute features the usual mixture of veterans and newcomers singing a collection of songs that are or will be unforgettable to the audience.
Featured songs include "Hey, Look Me Over," "Unforgettable," 'Till There Was You," "Nine to Five," "Old Man River," and the Salute features songs from 80 years of musicals, including Les Miserables, Wicked, Sideshow, South Pacific, Annie, Jekyll & Hyde, Into the Woods, Pirates of Penzance , and The Jungle Book.
Two singers, Kerry Oxford and Neville Cordell, have performed in every Salute since the series opened in 2015, as has Musical Director Luanne May. Amelia and Mallory Edd, Kathleen Zappelli, and Barbara Booth Nixon are regular company members, and Alex and Toby Dresser, Milan Ishihara, Jen Shaw, Darren Dirk, and Sheldon Edd have all been part of previous Salutes.
The Salute family is happy to welcome Stacy Rose, Julia Benson, Rhys Pembroke, Lily and Gabriel Dresser to round out the cast. Stacy Rose also will be playing the flute for some numbers. Jen Shaw, Theresa Erskine, and Julia Benson serve as choreographers, and Alice Carlson co-directs the production.
The August 6 performance is Pay What You Can, as is always the first Saturday of Dolphin Playhouse productions. Committed to the belief that everyone should be able to share theater, the Dolphin Players established a tradition when the Playhouse opened in 2012 of providing one performance per production in which admission is by donation only. This is a great option for families and people on fixed incomes.
Masks are recommended, but not required, and there is no vaccination requirement for this show. During the COVID break, improvements were made to the theater's ventilation system, increasing safety and comfort.
Salute to Unforgettable Songs performances are August 5, 6, 7, 12, 13, and 14, with curtain at 7 pm on Friday and Saturday and 2 pm on Sundays. Regular admission is $10, with seniors and students admitted for $8, and children under 12 admitted for $5.
Reservations made by made by calling 541-808-2611, and tickets are usually available at the door.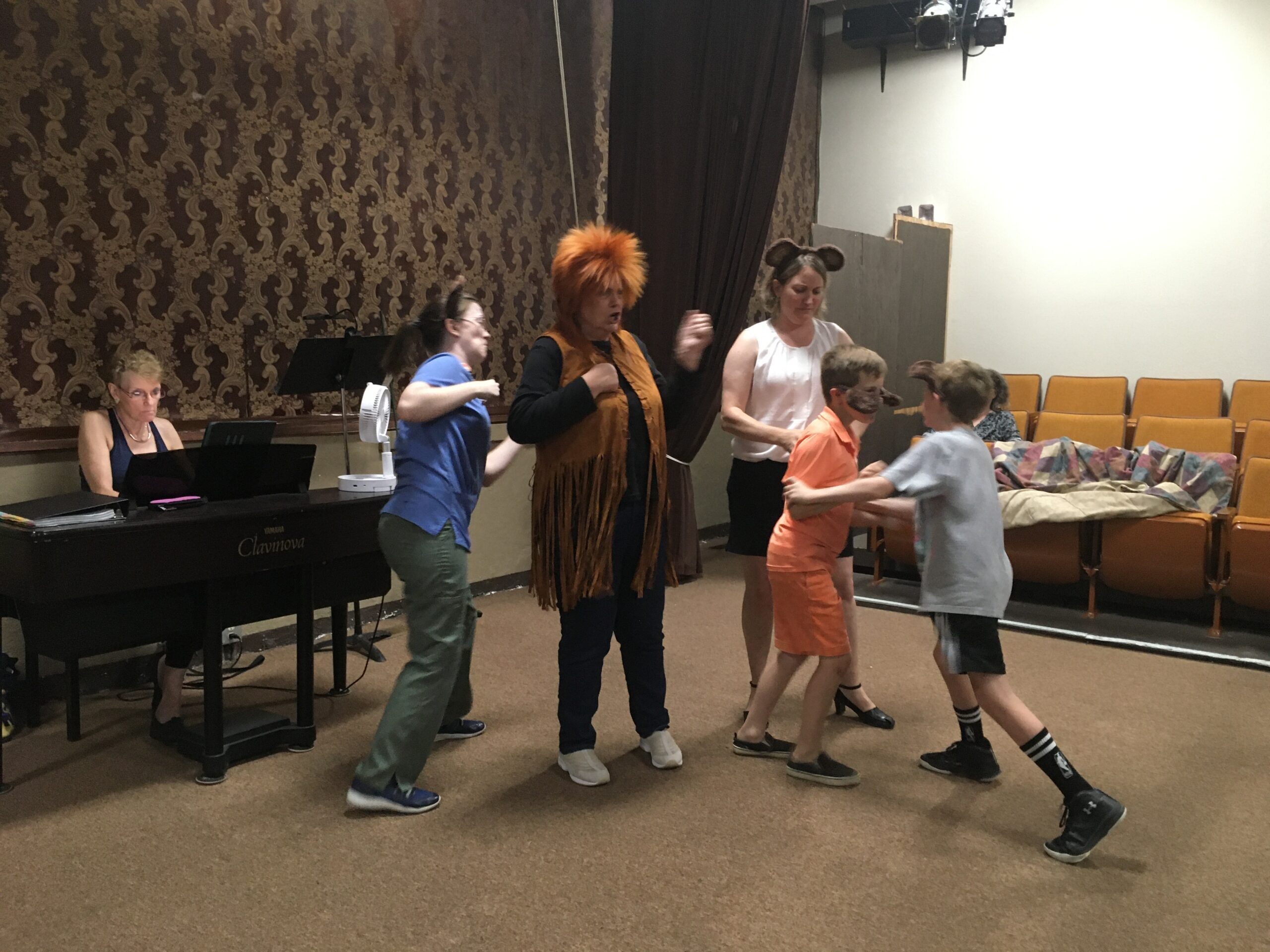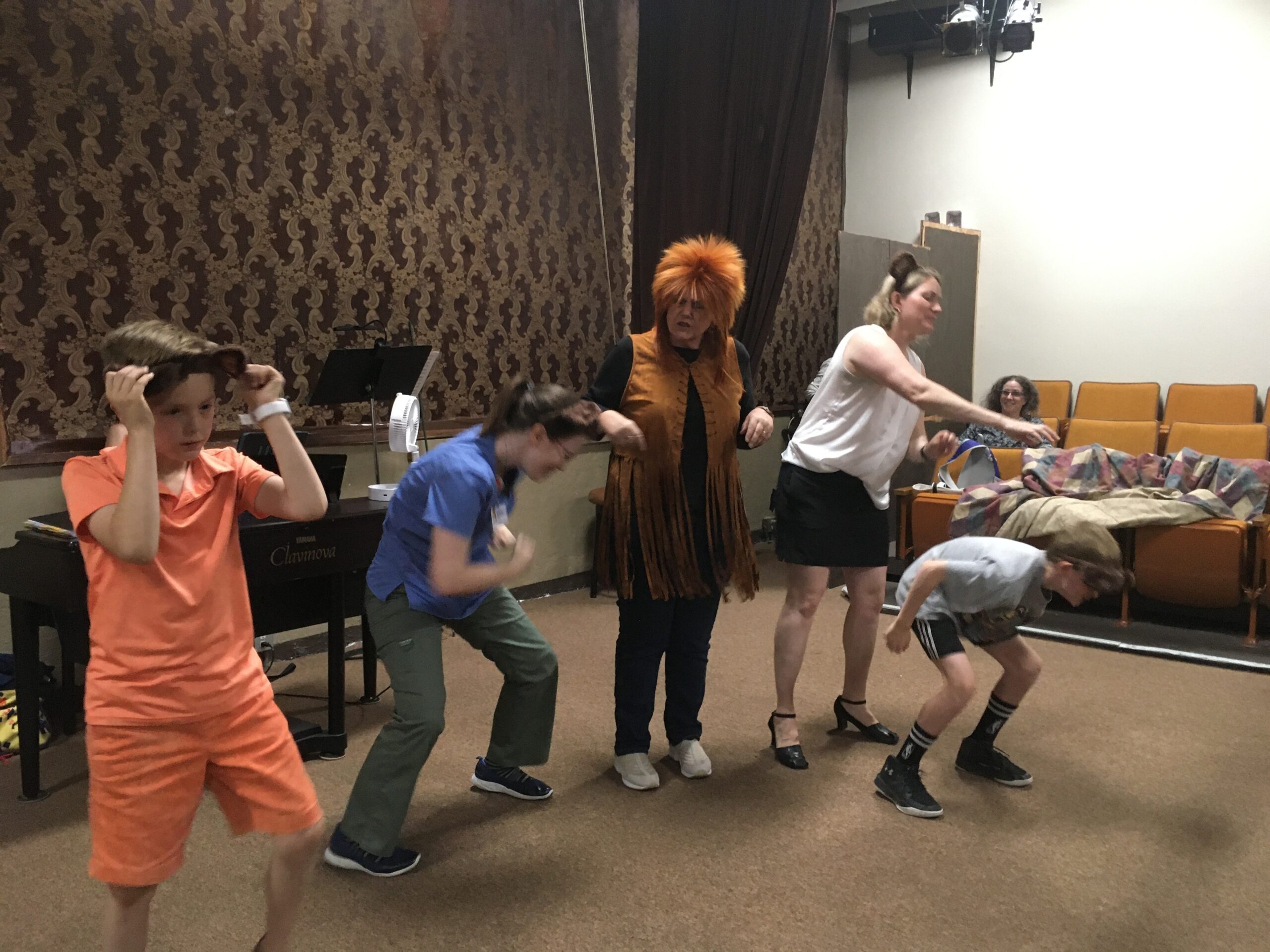 Song from the Jungle Book- Barbara Booth-Nixon
Left to right Luanne May, Julia Benson, Barbara Booth-Nixon, Amelia Edd, Ryhs Pembroke, and Sheldon Edd.